'La Collectionneuse' ft. in Numéro
September 2013 / Press
What's your background? Where did you study and what did you study?
Born and raised in downtown New York City in the 1970s. Attended university at Eugene Lang College within The New School for Social Research. Completed a Bachelor of Arts degree in Comparative Literature, which was essentially a mixed bag of literature, post-structuralism, gender studies and cultural studies, with a Marxist slant. It was a scattered education. After years of freelance jobs and art- related projects I attended the Independent Study Program at the Whitney Museum.
How did your background, family and the culture you were raised in shape your identity and taste?
Both my parents migrated from the Philippines to New York City in their 20s, my father to attend graduate school and my mother to take a job at the United Nations; they met in New York. By Philippine standards they were privileged which enabled them migrate comfortably and earn the same status in the US. They seemed to embrace and be embraced by what was believed to be a "classless" society in the US at the time, relatively speaking, and they identify as New Yorkers to the core. As a native born American, I am more skeptical of the un-traumatic assimilation into the "American dream". I definitely experienced our "otherness", something my parents perhaps could not psychically afford to acknowledge in pursuit of 'fitting in'. I was drawn to more marginalized subject positions for their political potential– "F.O.B.", the racial slur for fresh off the boat. Obviously I had the luxury to explore this without living the harsh realities of an actual refugee but it has been part of how I am perceived by Anglo-Americans and Europeans who do not know better; who see a brown person adopting 'their' codes, amazed at my ability to pass the test. To them I will always be trespassing which is something I have fun with on many levels.
Who are your references, in art?
At the moment I am reading Sturtevant and Adrian Piper. I would not call them references. My work does not refer to theirs. They my examples or motivating forces.
Before art, my biggest inspiration was cinema, discovering these auteurs in my youth– Godard, Varda, Marker, Rouch, Rohmer, Rivette, Ackermann, and later Weerasethakul who hails from Thailand. Blissfully Yours was a defining moment in showing how the task of art, especially cinematographic art is the "invention of a people" in the Deleuzian sense of becoming. Although my work is in part object-based, my inclination is towards narrative. If you spend time with my work, the layers are there.
Who are you talking too? Who is your public?
Too soon to say who my public is, public under construction.
Could you elaborate on why and how you make transitions from art and fashion?
The economy of cultural goods and the conditions in which they are consumed, appropriated or fetishized interests me, as well as how taste mutates cross- culturally.
What do you think of desire and erotism (that's the theme of the issue) (the anus, the tongue etc, if you can talk about the show at front desk would be good)
In my work desire and eroticism can be seen as having been reduced to detached social transactions that are then projected back as desire and eroticism. I'm curious about the tension in the work when you subtract romance from desire to end up with power, which of course gets recuperated as desire. It is on the viewer to locate where in the artwork this dynamic starts and ends.
In my show La Collectioneuse at Front Desk Apparatus I created walls to trap the overhead lighting to make a bright, void-like space that I likened to a bleached anus. In the show I toyed with positions such as top and bottom, as termed in the gay world, to talk about the middle man in the art market – the art advisor or gallerist as the mediator between artist and collector.
In exhibitions, is the notion of display important and why?
In my work conditions of display are often inseparable from the work itself.
Is your work site specific and related to exhibitions?
It is site-specific in as much as the context provokes, it is more interesting to intervene than to treat the space as neutral.
What are you working on at the moment? What is your next project?
A solo show at Gaga Mexico City in 2014.

'La Collectionneuse' ft. in NY Observer
September 2013 / Press
Being an artist these days involves turning oneself (and one's art) into a brand, an object, a digital file—something to be collected, stockpiled and exchanged. Which is a concern that runs through Carissa Rodriguez's sharp, multivalent show in the offices of Front Desk Apparatus, a hybrid art advisory, marketing agency, publisher and gallery.
Ms. Rodriguez doesn't seem particularly irked by this reality. A longtime director at Reena Spaulings Fine Art, a Lower East Side font of artistic talent and branding magic, she's expertly surveying and surfing art world power dynamics, rather than attacking them directly in her solo gallery debut in New York, which follows an impressive run of sterling group show appearancesin the city, and superb-looking outings abroad.
On a standing wire rack in the space's small gallery, she has deposited copies of three different postcards, each bearing a slightly tawdry, private detective-style photograph of one of her paintings (they're all identical) hanging in one of three collectors' homes. They're free for the taking, inviting visitors to both consider and potentially contribute to the promulgation of her brand.
A fourth postcard has a photograph of a square of fierce Halogen lights, the very ones that are installed on the ceiling around the corner. They light a tiny, empty gallery within the gallery built of drywall and painted Super White—a send-up of the intensely bright, cold light that has proliferated in galleries in recent years and is ideal for digital reproduction.
The rise of the Super White aesthetic is in no small part thanks to the blog Contemporary Art Daily, whose proprietor Forrest Nash has collaborated with Ms. Rodriguez on a project on Front Desk Apparatus's website, a script-generated image feed that serves up mostly photographs of attractive model types, luscious-looking cakes, celebs (including Hillary Clinton) eating pizza and portraits of a baby-faced man. The subtext may be that, in an art world as large (and flush) as today's, artists risk becoming nothing more than producers of comfortable visuals for self-selecting consumer groups—an unpleasant digital feedback loop that risks destroying Mike Kelley's old belief that art is "simply about fucking this up for the pure pleasure of fucking them up."
The title of Ms. Rodriguez's show, taken from the 1967 Eric Rohmer film, may provide a hint as to how artists can cope in this environment. (It definitely provides a model for a series of scary, funny ceramic case paint cans lined with razors that she has copied from it.) In the movie, a woman unapologetically collects male lovers. Here, Ms. Rodriguez adopts the role of the vicious collector herself, using the tropes of institutional critique—architectural intervention (those Michael Asher-esque walls) and incisive installation shots (the Louise Lawler-esque postcards)—to assemble a chilling indictment of some of contemporary art's prevailing banalities.
In a mantelpiece in the gallery, she has embedded a Cartier ring. As you admire its elegance, perhaps even lusting after it, you may find darker thoughts about aesthetics, and power, sneaking up on you. (Through Oct. 7)

La Collectionneuse reviewed by NY Times
September 2013 / Press
There is a lot going on in and among the works in Carissa Rodriguez's surgically precise New York gallery debut. The more you think about them, the busier it all becomes.
Ms. Rodriguez is a latter-day Conceptual artist with a preference for physical perfection similar to appropriationist precursors like Sherrie Levine, Louise Lawler and Sarah Charlesworth. Her efforts here center on the business, display and collection of art; different modes of site-specificity; and the circle, or cylinder, as a recurring form. Eric Rohmer's 1967 film , "La Collectionneuse," provides the title and features an artwork made from a used paint can neatly embedded with dozens of razor blades. Ms. Rodriguez has recreated it in four tastefully colored ceramic vessels, blades and all. (Rohmer aside, they also evoke Giacometti's 1931 spiked phalluslike sculpture, "Disagreeable Object," and Meret Oppenheim's 1936 fur-covered teacup.)
Other elements on display include a gold wedding ring, set into a groove cut in the gallery's marble mantelpiece — a perfect wedding of two materials; and a three-wall enclosure tailored to the gallery's lighting system — a square of fluorescent ceiling lights — that intensifies the hygienic effect of the gallery as white cube. A revolving metal rack displays four sets of black-and-white photographic postcards free for the taking: one shows the gallery's ceiling, which has a center circle remaining from its original light, as well as the fluorescents. The other three document a series of monochromatic wall pieces by Ms. Rodriguez titled "Standing O" installed in the homes of three collectors. Round, with pronounced drips, these pieces may summon the old Sherwin-Williams logo of a globe dripping paint and the phrase "Cover the Earth," which has a new resonance in today's global art market. That Henry Sherwin (1842-1916) patented the first resealable paint can should probably not be ignored.
– Roberta Smith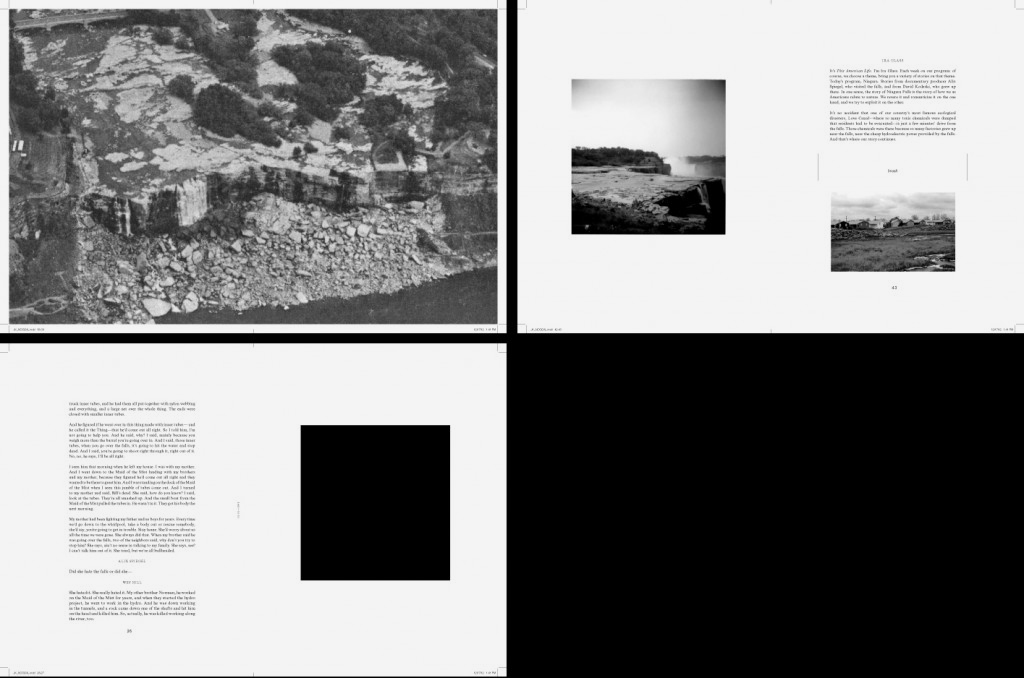 Jacob Kassay : No Goal Publication
Feb 2013 / Publications
Parts and Wholes and holes and Parts
objects all hold the endless capacity to estrange us from the comfort of the given; to evoke what remains unseen, or previously unthought. an object can do this on its own, but it can also do it as a series working together. there is of course the exhibition and then there are the artworks that comprise the exhibition. the exhibition does not exist without the artworks, nevertheless, an artwork on its own does not make the same exhibition. It is like divorcing an organ from the body. there is an autonomy to this organ as flesh, but a particular set of its functions are contingent upon being in a body, functioning together with other organs, receiving blood and doing its part in the constant upkeep of living. the artwork, is in a sense an object within a larger object, just like a person can exist on his or her own, but when a mass of people begin to form, a different mentality emerges altogether. the movement, the feeling, and the ardor of the mass sings a different song from the single person. the mass can envelope you; the person can face you. the song can wash over you; the note can strike you. a room of begonias overwhelms you, a single display endears you. each has its own particular cadence, resulting from the separateness of each, albeit with rather blurry borders.
one might focus on these borders to suggest that there is no object, only a convenient fiction of the mind. Close inquiry at the edge of an object reveals that its solidity is fabricated; that the object is instead a radical fraying: porous, trembling, a dynamic glut of flux. Implicit in this perspective is an effective atomi- zation of the world, where one can always look closer and see that things are not what they seem. how- ever, we do not find out how organs work based on their quantum jitters, nor do we understand a country's dynamics by looking at protons and neutrons. to reduce objects and phenomena to a final substrate nar- rows our reality so that meaning is lost. rather, one should preserve objecthood at all levels of scale to understand the power of each register.
Implied in this atomization is the belief that the world is governed by forces existent before matter has anything to say. therefore non-material forces engender all the world's complexity, giving life to mat- ter. this, however, would get us into the tricky divide between dead and living matter. rather than trying to find a complicated solution, let's embrace the simplest. Instead of force begetting object, object begets force. thus, there is no magnetic field without a conductive metal, no gravity without a mass, no violence without warring fronts. there is no range of forces, no range of meanings without the object. one might look to the color theory of Matisse for a strange but welcome fellow traveler. Matisse knew that a red patch is a far cry from a red banner, that a red rooibos stain remains merely polite in comparison to red oil paint slathered on canvas. It might be then assumed that the force of an object is entirely based on its rela- tions: no inherent force of the object without light, without a spectator, without someone comparing and contrasting. Certainly no object exists within a vacuum, but no object can be fully revealed in its relations. no amount of probing or prying, copying or recreating will exhaust the object. It always has some hidden reserve. Without such a reserve, the relations between objects could not continue to surprise. We are on occasion held in a trance by such a selection of things. For sometimes objects conspire to expand and con- tract space and vision, doing so by relying on both the apparent features of each individual object, and the more transcendent features of the experience of the whole.
— An excerpt from appoggiatura by Jacob Kassay and Ajay Kurian.
VIRGINIA OVERTON : DELUXE
Jan 2012 / Publications
For Virginia Overton, the truck is a working tool embodied with stored labor. Rather than a symbolic object of desire in the mode of the co-opted muscle car, she recognizes the truck as a worker. Like most of her tools and materials, the truck functions as an agent for labor production. Overton once drove an old pickup truck from Norfolk, Virginia to Memphis, Tennessee. This act became a means for a sculptural gesture. Along the way she casually collected material found roadside, including: discarded lumber, furniture and other commodities drained of their use value. Arriving in Tennessee she invited friends to install work inside a borrowed RV that she rigged to her truck bed full of refuse. Taken together, the drive, the truck bed full of junk and RV installation allowed Overton to regard them collectively as an act of construction, retrospectively building her mode of working into new structures and practices. Ratchet straps, timber, ladders, commercial grade lighting and electrical fittings, are among the tools used in Overton's intuitive sculptural arrangements.By balancing, wedging, suspending and cinching, a distillation of the working material occurs. It can be said that labor is crystallized in these objects of utility. The sculptures work and expend labor in an effort to create a new general utility. Similar to the firebrick of Carl Andre's Equivalents or the slabs of lead and steel of Richard Serra, the materials are embedded with potential of returning to their origin of function. The rendered contingency of Overton's provisional arrangements could easily be dispatched back to the construction site, trash pile or driven across the Texas ranch. Overton (born 1971, Nashville, Tennessee) lives and works in Brooklyn, New York. She received her BFA and MFA from the University of Memphis. She has been included in exhibitions at institutions including SculptureCenter and PS1 in Long Island City, NY; White Columns, NY; White Flag Projects, St. Louis; The Powerhouse, Memphis; and Le Magasin in Grenoble, France. She has exhibited at galleries including Blum & Poe, Los Angeles; Dispatch Bureau, New York and Air de Paris, Paris. She is represented by Mitchell-Innes & Nash, New York and Freymond-Guth, Zurich.
THAT CAME OUT A LITTLE COUNTRY
April 24, 2012 / Events, Exhibitions
"But modern man finds a face more beautiful without tattoos than with, even if the tattoos are by Michelangelo himself"
— Adolf Loos
"Not quite blonde, are we? More of a dirty blonde."
— Patrick Bateman, American Psycho
When applied, a tattoo costs only a few hundred dollars. Its removal requires several thousand dollars, pain and many laser sessions. Whether out of regret or clearing real estate for the new, the cancellation process takes an average of eight treatments, spaced one month apart. Each treatment incrementally fades the tattoo until it is eventually erased. A shadow of the ink line typically remains, a stain of sorts, turning the symbolic gesture into an ambiguous anti-gesture.
Fredrik Værslev's "Garden Paintings" address the context and frame of the suburban garden as a site of production – a place that cultivates the banalities and repetition found in suburban life. In these works, wood supports encompass a relay of several interrelated but different economies, inhabiting a space positioned in-between figure/ground, interior/exterior, public/private. Both in recent and older projects, Værslev has dealt with the implications of paint in architecture to show where these relationships become emblematic of painting itself – "in architecture as an object for painting, in terms of interior decoration, but also as one aspect of maintaining a site." This thinking about painting with and against architecture does not presume to discover something about the architectural or "domestic context," but proceeds with an awareness of the contradictory terms that inform its conduct and vocabulary. It is subject to re-arrangement.
Værslev over-edits the painting's surface with sand paper and paint remover to prioritize "undoing" over "doing" and "anti-gesture" over "gesture." He appropriates, to some extent, the conditions of painting to cancel out and repeat them. With these works, painting needs to be considered not just in terms of what appears to be external and ornamental but how it inverts and re-directs these qualities to gain knowledge about its own conditions of production and status as painting. One is invited to examine and re-examine the painting's slats to find traces of this investigation undoing itself into the stains and scars of the surface.
Fredrik Værslev (b. 1979, Moss, Norway) graduated in 2011 with an MFA from The Art Academy in Malmö, Sweden / Städelschule in Frankfurt am Main. Recent and upcoming solo exhibitions include STANDARD (OSLO), Oslo; Studio Independienza, Rome; Johan Berggren Gallery, Malmö; and Galerie Circus, Berlin. Værslev`s works have also been included in exhibitions such as "I Think and That Is All That I Am" at Thomas Duncan Gallery, Los Angeles, "Priority Moments" at Herald Street, London, "The Confidence-man" at Tanya Leighton Gallery, Berlin and "Printemps de Septembre", in Toulouse. Parallel to the exhibition his works can also be seen in "Collaborations & Interventions" at Kunsthalle Andratx, Mallorca. "That came out a little country" is his first exhibition in New York.
May 1 — June 30, 2012
Front Desk Apparatus
218 Madison Ave.
New York, NY 10016
Thursday, Friday and Saturday 12 – 6 PM
www.frontdeskapparatus.com
Matias Faldbakken : Oslo, Texas
Dec 2012 / Publications
Oslo, Texas is the second in a new series of publications issued by The Power Station, Dallas, documenting the institution's recent site-specific project with Norwegian artist and writer Matias Faldbakken. The publication features contributions by John Kelsey, artist Josh Smith and a translated excerpt from Faldbakken's novel Unfun.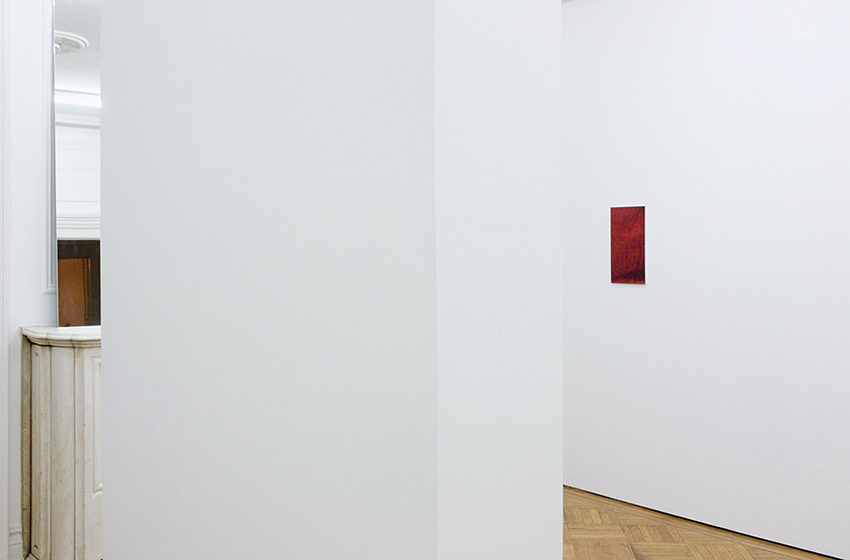 Sean Paul ft. in KALEIDOSCOPE
March 27, 2012 / Press
Today, no-one is surprised by artistic anti-market gestures; in fact, market criticism forms a perfectly acceptable sphere of the most marketable art practices. This premise constitutes the underlying ideology for much of New York-based artist Sean Paul's practice. The press release for his 2006 exhibition at Elizabeth Dee, famously featured a photocopy of the 2003 Top Gun Prospecting financial advisement bookcover, matched with a transcript of Paul's dialogue with his dealer. Taking this commentary further, the artist's solo exhibition at Front Desk Apparatus is organized in collaboration with Thea Westreich, whose consulting firm provides advisory services for collectors.
"Every Hair of the Bear" displays what Paul describes as "arrangements," oil on canvas paintings mapping out black square territories on white backgrounds. Also on show is a richly textured monochrome print and a reproduction of a classical portrait of a princess in her precious garments, architecturally folded around a gallery pillar. A mirror amplifies the display, offering an alternate installation view.
The sparse arrangement, nonetheless, presents an elaborate layering formulated through reproduction, abstraction and reflection of familiar imagery. Sean Paul's current projects include a participation in a group show "New York: Directions, Points of Interest," at Massimo de Carlo, Milan, dedicated to the young art scene of New York. (Marta Jecu)
Metrpolis M
Sept 2011 / Press
Maxine Kopsa writes about Front Desk Apparartus in the current issue of Metrpolis M.