Dewar & Gicquel
Every art is concerned with bringing something into being, and looks for technical and theoretical means of producing a thing which belongs to the category of possibility and the cause of which lies in the producer and not what is produced. …It is not in depraved beings, but in those who act in accordance with nature that we must seek what is natural.
-Aristotle, Politics (I.V.1254a)
Here's a photograph.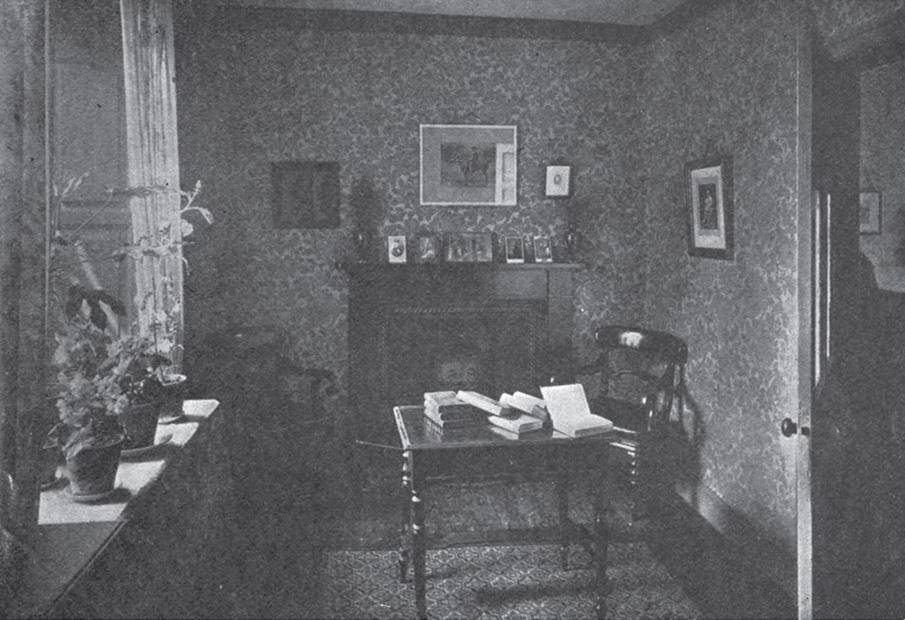 The photograph was taken by John Patrick around 1904 and shows the room in which Thomas Carlyle wrote the novel Sartor Resartus (between 1831 and 1834).
According to Wikipedia, Sartor Resartus (meaning 'The tailor re-tailored') intended to be a new kind of book: simultaneously factual and fictional, serious and satirical, speculative and historical. It ironically commented on its own formal structure, while forcing the reader to confront the problem of where "truth" is to be found.1 The book's central figure is an imaginary German philosopher Diogenes Teufelsdröckh, whose "Philosophy of Clothes" holds that "meaning is derived from phenomena, continually shifting over history, as cultures reconstruct themselves in changing fashions and power-structures."2 In the book's eighth chapter, Teufelsdröckh quotes from Goethe's Faust:
In Being's floods, in Action's storm,
I walk and work, above, beneath,
Work and weave in endless motion!
Birth and Death,
An infinite ocean;
A seizing and giving
The fire of Living …3
From this fragment, we transition to Plato's comments on "statecraft" in the Politikus, where another imaginary philosopher (referred to as "the Stranger") asserts that "wool-working comprises two divisions, and each of these is a part of two arts at once." Perhaps this is because the Greeks use the same word techne to name both craft and art. But, beyond its superficial usage, techne also denotes "a mode of knowing" that finds articulation in "the act of making." Being of the order of "knowledge" and "doing," techne interposes a kind of creative mediation between nature and humanity, whose status of intercession is a source of perpetual ambiguity.4
To be capable of transforming a forest into packaging for cheeseburgers, man must see the forest not as a display of the miracle of life, but as [a] raw material, pure and simple.
-Michael Zimmerman
Thoughts and things are names for two sorts of objects.
-William James
For the exhibition, Dewar & Gicquel are showing two large wool tapestries (which appear as sweaters) and a grouping of stoneware ceramics (a pitcher, a toilet and a bidet). From their appearance, we get the humor. Yet, Dewar & Gicquel's work is intensely serious. They are keen to seize upon techne's ambiguity, as the separation between making and thinking–between sculpture and the act of producing sculpture, content and form, naturalization and socialization–is an enduring and deliberately unresolved aspect of their work. Whether carving into a block of stone or clay, or weaving with large wooden needles, the key issue is how to prioritize the means of doing sculpture in such a way that questions sculpture's conventions and works through what is or is not materially possible. They've said, "there is no difference between the process of making and the object."
Dewar & Gicquel produce everything themselves by hand. They stress the importance of working in sessions of intense and uninterrupted productivity, where a single object can take weeks to manufacture. This is perhaps what makes their work so human, even romantic. But, the difficulty with most of these labels is the overarching implication of nostalgia that does not uncritically or unconditionally present itself in their work. Instead, their process suggests a rigorous Pragmatism, where sculpture functions "less as a solution than as a program for more work, and more particularly as an indication of the ways in which existing realities (or materials) may be changed. …Theories thus become instruments, not answers to enigmas."5
In this mode, Dewar & Gicquel resist a prevailing tendency in contemporary art practice to de-skill (obviating readymade objects and outsourcing) by favoring traditional techniques — stone and wood-carving, modelling with clay, weaving and working with ceramics — that prioritize physical engagement with raw materials. Though their work tends to be figurative, they insist their interest in "images" is "purely formal." The "sweater" or "pitcher" are intended to function less as images than as ways to format a singular mode of sculptural investigation. In this sense, the appeal of one material over another does not directly relate to the subject of the work, because the subject is the material and, specifically, how the material can be put to use. What Dewar & Gicquel hope to uncover is when the technique replaces the need for an image. Or how the technique (the material and its use) interweaves itself with the image that expresses it.
There are two hypotheses. The first one, the poetic one, is that the universe of appearances have given way to an objective world, where the world relieved from truth and appearances becomes a fable. The second hypothesis…is quite simply the collapse of the world into reality.6
Because Dewar & Gicquel often work outside, the insinuation of the environment is intentional. But working in rural settings is not positioned as call for the return of "the pastoral" or a reprisal of Victorian-era protests against mechanical domination. It's about how craft has the potential to pragmatically condition the world we come to know. Here, the analogy of craft as a mode of knowing aligns with Foucault's definition of archeology as a "discursive formation" of "multiple dissensions [whose] purpose it is to map a particular discursive practice."7 Its future is unknown, but some trajectories can be drawn. Not on the basis of actions that cannot be planned, but as an attempt to bring attention to the discursive implications of viewing craft as an interventionary practice or condition of possibility. In other words, Dewar & Gicquel are aiming to assess how the productive aspects of craft might symbolically reproduce the conditions under which the practice of doing sculpture is both questioned and expanded, where techne's ambiguity hinges simultaneously on what they make as merely imagined and how the things of imagination are merely made. "Thoughts and things are names for two sorts of objects" and objects are most themselves when here and now they cease to matter.
…

Daniel Dewar and Grégory Gicquel (b. 1976 in Forest of Dean, England and 1975 in St Brieuc, France, respectively) live and work between Brussels and Paris. Recent exhibitions include Établissement d'En Face, Brussels; Galerie Micheline Szwajcer, Brussels; Musée Rodin, Paris; Centre Pompidou, Paris; Truth and Consequences, Geneva; Spike Island, Bristol; Witte de With, Center for Contemporary Art, Rotterdam; Palais de Tokyo, Paris. They were the recipients of the Marcel Duchamp Prize in 2012. This is Dewar & Gicquel's first solo exhibition in the United States.
Daniel Dewar & Grégory Gicquel is on view at Front Desk Apparatus from May 11 through July 31, 2015. Special thanks to Micheline Szwajcer and Paul-Aymar Mourgue d'Algue. For further information please visit our webpage: www.frontdeskapparatus.com or contact us at info@frontdeskapparatus.com or 212-300-3661. Front Desk Apparatus is open Monday through Friday from 10:00-6:00pm.
1. http://en.wikipedia.org/wiki/Sartor_Resartus
2. http://en.wikipedia.org/wiki/Sartor_Resartus
3. Thomas Carlyle, Sartor Resartus: The Life and Opinions of Herr Teufelsdröckh (Berkeley: University of California Press, 2000)
4. Felix Guattari, "Machinic Heterogenesis," in Chaosmosis: An Ethico-Aesthetic Paradigm (Bloomington: Indiana University Press, 1995), 33-57.
5. William James, Pragmatism: A new name for some old ways of thinking (New York: Longman Green and Co: 1907).
6. Jean Baudrillard, "Integral Reality," in Jean Baudrillard = Baudrillardiana, 2008.
7. Michael Foucault, The Archeology of Knowledge (New York: Routledge, 2002), 173.